ABOUT:
Unique to London, WakeUp Docklands is London's only cable wake park within the central transport network offering a variety of water sports in an inner city environment. Based in the sheltered waters of Royal Victoria Dock we are open to everyone and specialise in:
Cable wakeboarding

Stand up paddleboarding (SUP)

SUP yoga/pilates
New for the 2019 season we are also proud to offer:
As well becoming one of the first Onewheel Demo & retail centers in the UK
Now its 7th season, WakeUP Docklands is operated by a 100% rider owned and rider driven company: Riderr Ltd. Jon and The Team are always eager to help, whatever your enquiry, so if you're wondering what session is right for you to book, learn some new tricks, or just want to chew the fat over the latest goings on, you'll find everyone at the park ready and willing to help!
Email
Info@wakeupdocklands.com
Location
Royal Victoria Beach, London E16 1AG.
Nearest station: Royal Victoria Get me there - citymapper.
Current OPENING HOURS:
Monday: closed
Tuesday-Friday: 3pm-9pm
Saturday: 10am-8pm
Sunday: 10am-6pm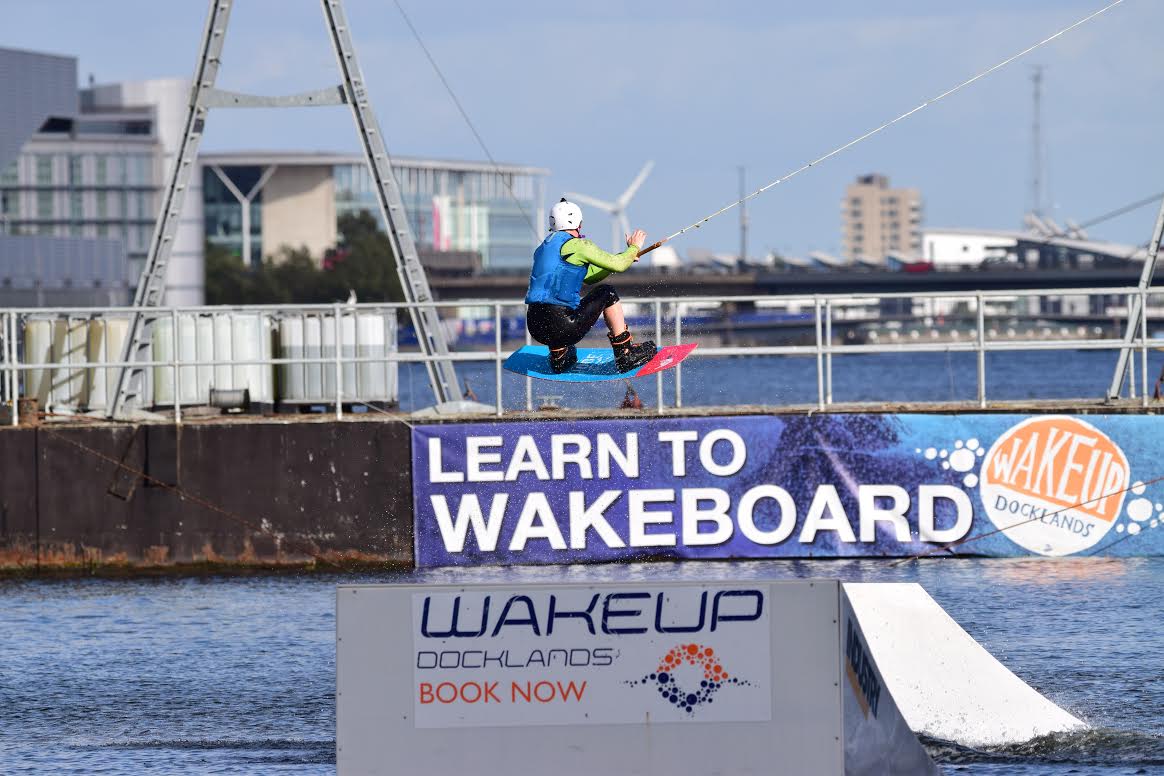 Please use our online booking system to pay for and reserve wakeboarding sessions: Top tip: why not check out our bulk buy punch card deals. They can be shared with friends and make riding cheaper than individual bookings.
If you are new to watersports, do not be concerned. WakeupDocklands is host to an array of activities to suit everyones' tastes and abilities, including beginners. Our dedicated team of knowledgable instructors will ensure you quickly feel like a seasoned local, cruising up and down the dock in the sunshine.
At the end of a regular beginner session almost all people are able to stand up and enjoy their 1st tentative rides, some even manage to look like they've been doing it for a while!
Wakeupdocklands uses the world's best-selling two-tower cable system developed by Sesitec. With cable speed being controlled by an experienced operator and wakeboard instructor, this System 2.0 technology takes riders up and down in a straight line, making it very easy to learn wakeboarding. The hight of the cable combined with precisely adjustable speeds bring beginners efficiently up to their feet in a safe and controlled manner. System 2.0 also helps advanced riders quickly master new tricks out of the water and on the rails and kickers.
We have recently upgraded all the running cables in the wakepark and even added shiny new direct drive engine to our Gold Cable for stronger pull and bigger air tricks. You'll also be able to kick back and enjoy the action from our fully licensed beach bar!
Please note: sessions start on the hour every hour, so please arrive at least 20 minutes before the start of your session to get ready to be on the water at the start of the hour.
Follow the link below to access our full FAQ's!
Paddleboarding (SUP)
There is no greater venue for inland stand up paddleboarding (SUP) than the capital's Royal Docklands. Whether you're looking for a new and interesting way to keep fit or just interested in giving the worlds fastest growing watersport a try, we can provide a coaching or practise session to suit your needs.
WakeUpDocklands is a British Stand Up Paddleboard Association (BSUPA) registered school. This means all our lessons are delivered by professionally certified instructors. We cater for a wider range of paddleboard activites, including tours of the historic Royal Victoria dock, BSUPA 'ready to ride' qualification courses and also paddleboard 'yogalates' (yoga+pilates) classes.
Paddleboard hire is available for people with a Ready to Ride card or equivalent priced at £20.00 per hour.
To view our class schedule and reserve spaces via our booking system, simply select the date you wish to participate below and click then select the class that you are interested in.
One Wheel Retail and demo centre
the Onewheel XR is in stock and available here!
Want to enjoy that feeling of hydrofoiling, or snowboarding, floating on powder all year round? Well now you can, with the OneWheel XR!
Experience the thrills of turning your urban environment into a new playground by cruising over any terrain, floating, gliding and eating up the miles!
Get in contact if you want to demo or buy one of our limited stock of OneWheel XR's. Guaranteed to put a smile on your face, this is future of personalised electronic transportation and it is available here to demo and buy, at WakeUp Docklands!
Please note, to give the best experience possible demos and Purchases can only be made "in store" and we are not allowed to ship or sell these products online as part of contractual requirements made by our supplier in the USA, Future Motion Inc.
See our latest video of the the OneWheel XR below:

Contact us via email at: info@wakeupdocklands.com to arrange a demo or if you wish to purchase.
****Limited stock may sell out fast!****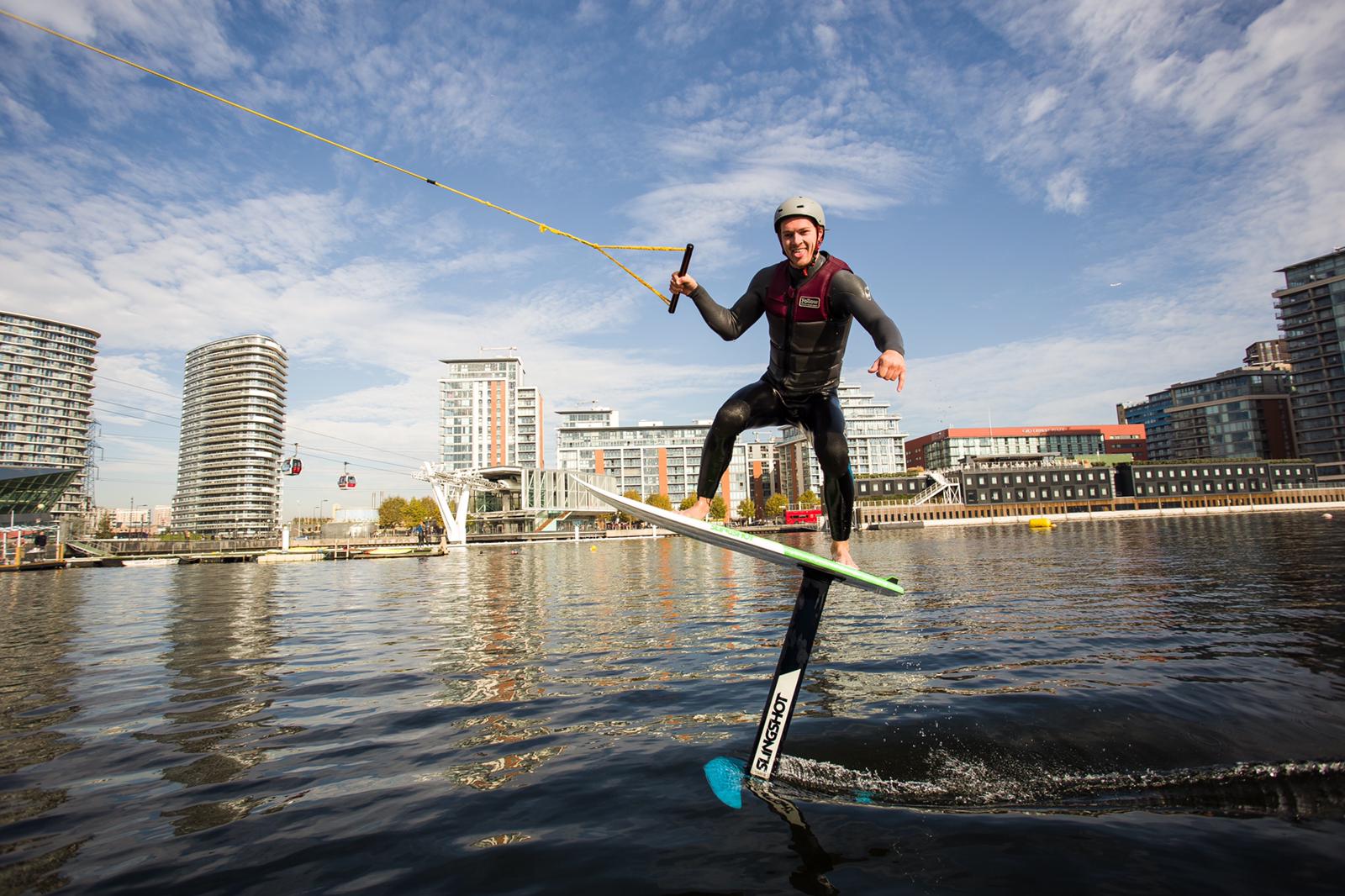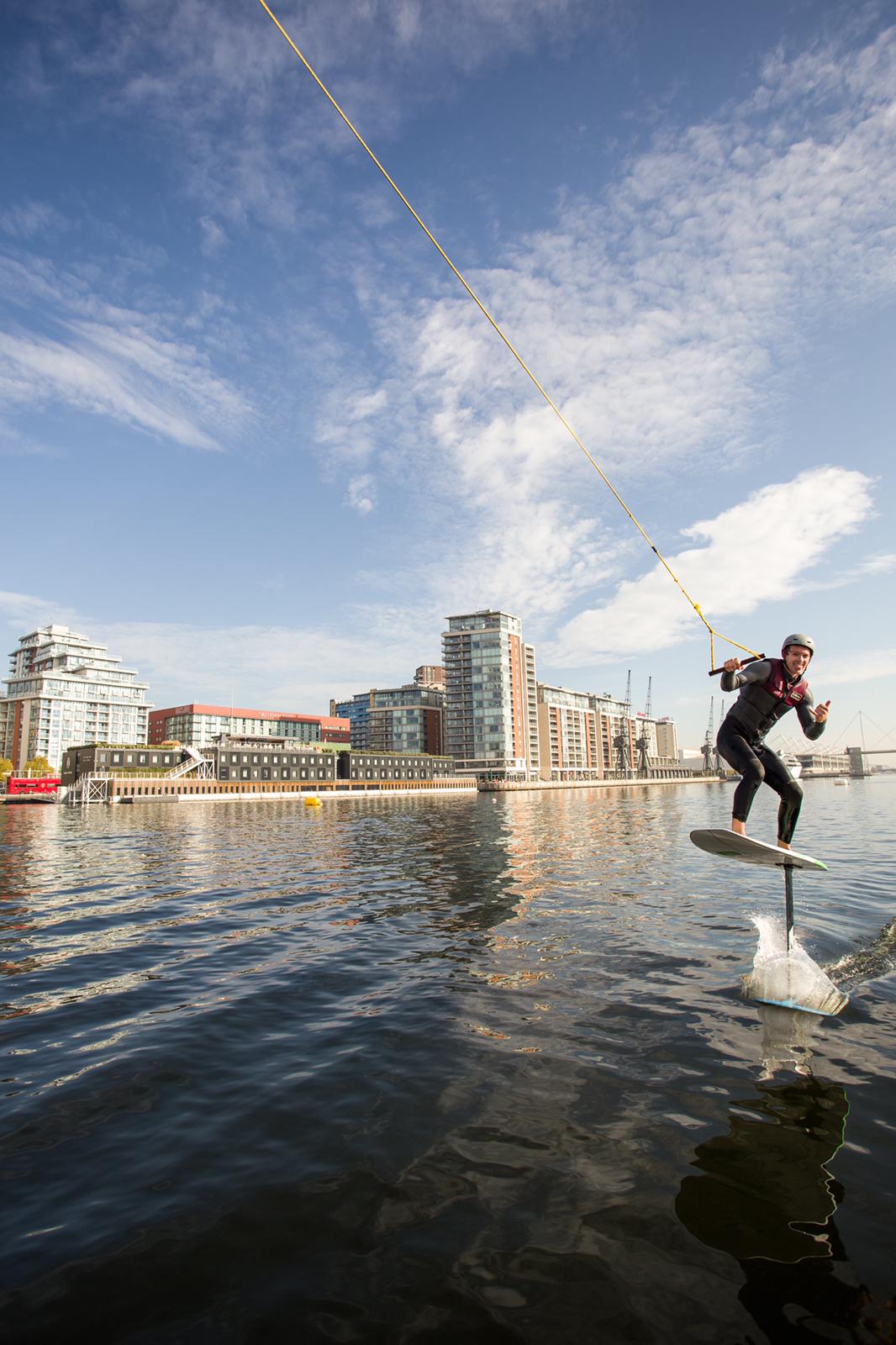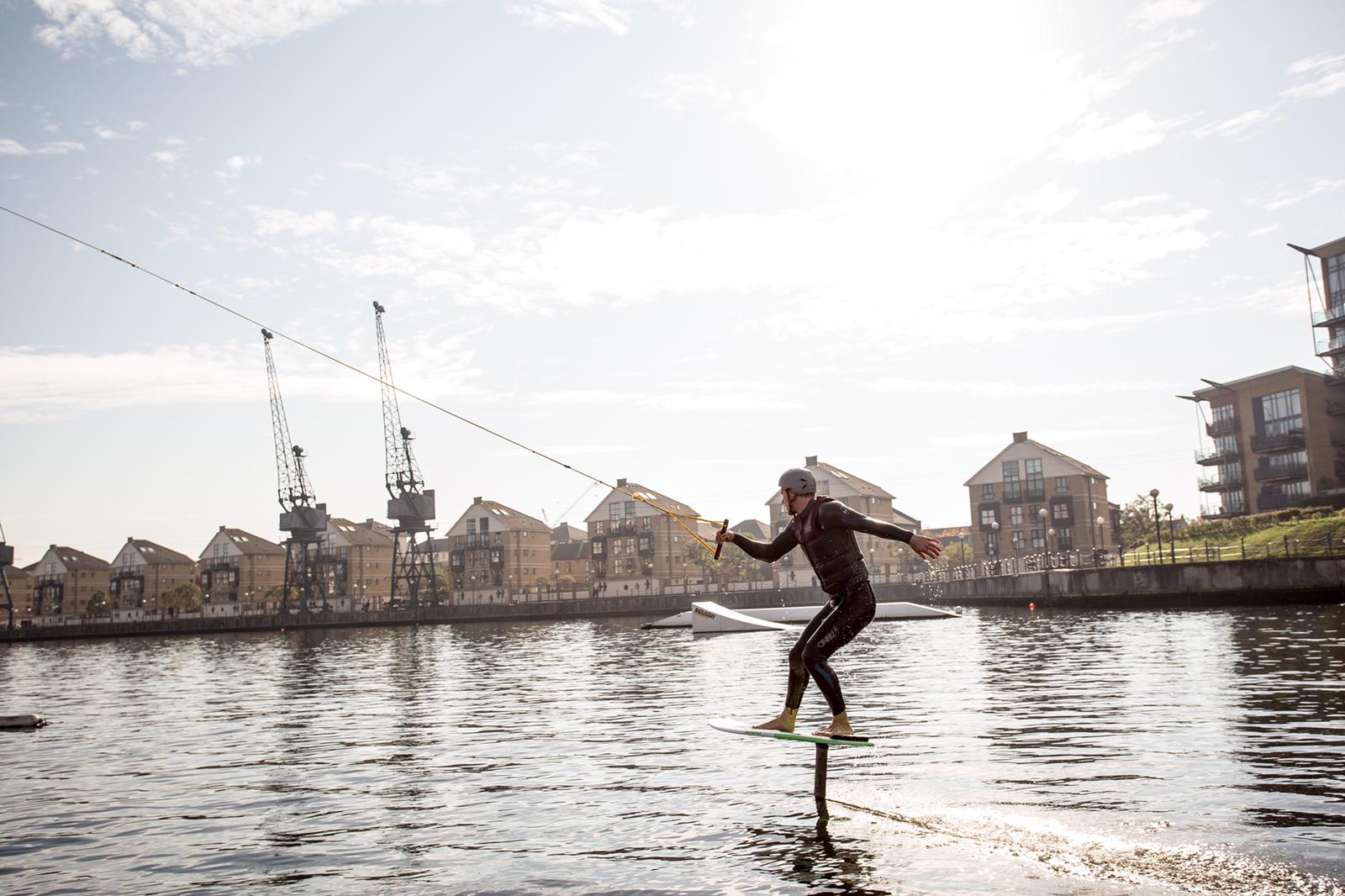 ===================================
New for the 2019 season, we are pleased to be able to offer introductory hydrofoiling lessons on our "Blue cable".
Designed to help you find your first step towards hydrofoiling, these lessons are especially great if you are a keen kiteboarder, wishing to get the feeling of hydrofoiling before introducing your kite and wind into the mix!
Lessons are by 'appointment only' so please enquire using the contact us form on the bottom of the website as we need to factor you in around our exsisting wakeboard sessions.
Please note: Hydrofoil lessons are only suitable for expereienced wakeboarders & kiteboarders looking to take the next step and learn a how ride a hydrofoil. We do not give coaching on the use of kites and it is forbidden to operate kites in our waters so please leave them at home.
Corporate bookings & private events
Want to host a party?
WakeUp Docklands is a superb venue to host all sorts of gatherings. Whether you're looking for a day out of the office, a team building exercise, a birthday party or a stag/hen doo, we are here to help. We can accomodate groups of a range of sizes and have catering options available if required. Contact us via phone or email (bookings@wakeupdocklands.com) to find out more.
Byrney's Beach Bar
Nestled in the SW corner of the Royal Victoria Dock you'll find Byrney's Beach Bar. A Hawaiian themed, grass roof hangout, right on the waterfront. There's no better place to kick back, meet like minded people and grab a drink from the licensed bar. Quite simply, it's where all the fun is once you've finished your set and are off the water.
Grab a drink
---
Wakeboarding and paddleboarding are thirsty work. Especially when the sun is out. At Byrney's you can choose from a selection of beers, wines and spirits to enjoy during your apres session. Even if you are not riding, feel free to pop on by and if you are feeling adventurous, why not ask to try one of our infamous 'pickle backs'. (If you havent had one before you are in for a real treat!)
Frequently Asked Questions
How do I book? The easiest way to book an activity is by using our online booking system. It allows you to view availability and pick the best slot for yourself. If you are inquiring about corporate bookings, private hire events or a large group booking (more than 20 people), we prefer to arrange that over email. For these special booking enquiries please contact us on "bookings@wakeupdocklands.com"
How many lessons does it take to learn to wakeboard /paddleboard ? Thats a difficult question to answer as everyone learns at different speeds however both sports have very progressive learning curves hence and in general our customers take to both quite easily on their first session. We teach people of all ages and experience and believe to offer a high level of customer satisfaction. You will be guided safely every step of the way.
What do I need to bring to the lesson and whats included? Just something to wear under your wetsuit, swim trunks or bikini and a towel. We can provide all the additional gear if you need to rent it. Otherwise, if you have your own equipment, you arer welcome to bring it.
Do you offer coaching? Yes. All our lessons include coaching from one of our coaches.
View our full FAQs here.
Our Park Location
1, Dock Road,
London, E16 1AG
Contact Us
The best way to contact us is via the enquiry form (right) as we are often out on the water and not in the office.
For more info, a link to our frequently asked questions can be found here:
https://wakeupdocklands.com/fullfaqs
We look forward to seeing you again very soon!
Jon & WUD Team
London's definitive guide to what's best to do in the nation's capital
Latest things to do and news from the London Evening Standard